Name: Eriko Sato
Profession: Supermodel
Country: Japan
Chinese Name: 佐藤江梨子
Nickname: Satoeri (サトエリ)
Birthdate: December 19th, 1981
Birthplace: Koto-ku, Tokyo, Japan
Lives in: Sapporo-shi, Hokkaido
Blood type: AB
Height: 173cm
Extra details of Eriko Sato:
Bust: 88cm
Waist: 58cm
Hips: 88cm
Shoe size: 25cm
Hobbies: Writing poetry and books, reading, watching movies
Ability: Ballet (can straddle 210 degrees)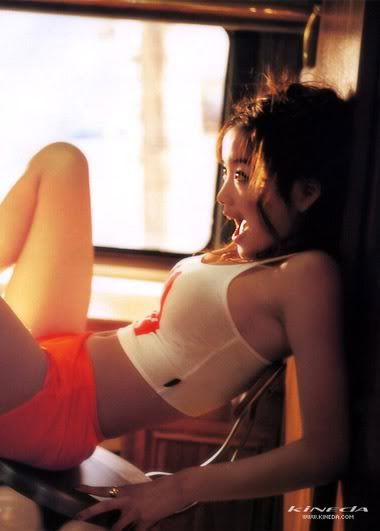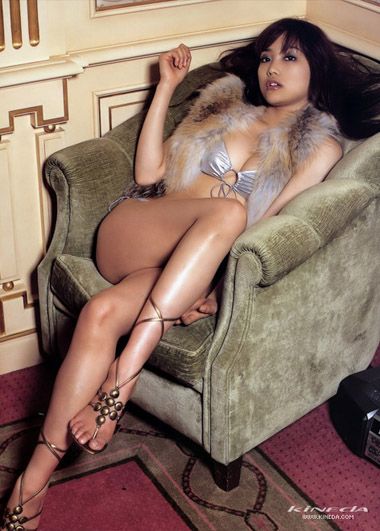 Kineda's Idol of the Day is Eriko Sato. Eriko Sato was born December 12, 1981 in Tokyo, Japan. She started her acting career in 1998 with Japanese TV drama, "Beauty Girl H." With many drama roles to follow, Eriko Sato's career was highlighted in 2004 with the movie, "Cutie Honey." Eriko Sato has a great appreciation of movies and looks to read books in her spare time. Her latest role is Tokyo TV drama, "Tenka Souran ~Tokugawa Sandai no Inmou", where she plays a role in the power struggle of the Tokugawa family.
As a child, Eriko's father constantly was getting transferred, so she lived all over Japan, including Kobe, Osaka, and Chiba. When she was in her first year of junior high school, the Great Hanshin Earthquake hit near her home in Kobe. After hearing the news reporters on Kiss-FM talking about it, she was struck with admiration and decided she wanted to enter the entertainment world. She was a campaign girl for Oiso Long Beach in 1999 and then was scouted by a talent agency.
Sato Eriko got most of her fame from her male (and the few female fans) from her gravure work, but she got major attention for starring in the 2004 live-action adaptation of the anime Cutie Honey.
In January 2005, Eriko got to be the main newscaster for a news special on the ten year anniversary of the Great Hanshin Earthquake she had experienced.