Name: Evonne Hsu
Full Name: Hsu Hui Xin
Chinese Name: 许慧欣
Profession: Singer, Actress
Country: US, Taiwan
Years active: 2002 - Present
Labels: Universal Music
Birth Date: December 5, 1979
Birthplace : Longview Texas, USA
Current Home: Taiwan
Family: Father, mother, older and younger sister
Ethnicity: Taiwanese
Nationality: American
Blood Type: B
Chinese Zodiac: Goat (Earth)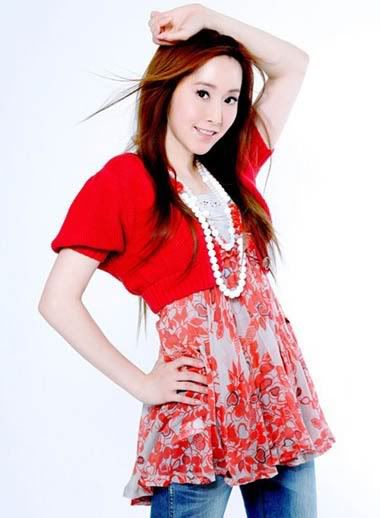 Evonne Hsu (Simplified Chinese: 许慧欣, Traditional Chinese: 許慧欣; pinyin: Xǔ Huìxīn; born on December 5, 1980 in Texas, USA) is a Taiwanese pop singer. She released her first album "To Be Happy" in January of 2002, immediately rising to fame and gaining recognition for her talent, looks, and personality. She has since then continued with her many successes, winning numerous awards, and was even hand-picked by famous Hong Kong singer, Jacky Cheung, to star as the leading female character, "Snow" in the mandarin version of his self-created musical, "Snow Wolf Lake". eVonne received rave reviews for her performance of "Snow", confirming to audiences in China, Hong Kong, Singapore, Malaysia, and Taiwan that she can not only sing pop songs, but shows great versatility and surprising skill in her singing, acting, and dancing. She has been seen in countless television advertisements, and is one of the most famous pop singers in Taiwan and many parts of Asia.
To date, eVonne has recorded six albums. She has also published her own book:eVonne的自然反應
Her recently released album includes a hit song called "Poem Water Snake Mountain Temple" composed by pop guru
Jay Chou
.
Albums
1. To Be Happy (快樂為主) (2002 January 3)
2. Lonely Ballet (孤單芭蕾) (2002 September 20)
3. Beautiful Love (美麗的愛情) (2003 July
4. Happiness (幸福) (2004 June)
5. Chosen One (萬中選一) (2005 November 15)
6. Mystery (谜) (2006 October 6)
Evonne Hsu was born in the USA about five hours from Houston Texas in the small rural town of Longview. Named Yvonne Ming Hsu, by her parents, she attracted attention at an early age as one of the few Chinese girls in her town.
Evonne grew up with a love for singing and dancing but had chosen to major in psychology at the University of Texas at Austin when a musical arranger friend convinced her to make a demo tape of her singing
The friend took the tape to Taiwan, where one executive at Core Agency (now the director at Universal Music), was so impressed that he flew to Texas to sign Evonne certain that he has found a future star.
Since she was planning to visit her Grandparents in Taipei anyway, Evonne decided to meet with the executive team at Core to discuss a contract. The meeting must have gone well. With the consent of her parents, she spent a year in Taiwan working on her Mandarin language skills while Core secured a record contract with Universal Music
Universal invested heavily in her debut album "To Be Happy" (Kuai le Wei zhu), recording in the studio for over a month and sending her to Korea to shoot her music video with the same team who had worked with Boa, SES, and Shinhwa
The album was released in January of 2002 and sold an impressive 100,000 copies in it's first six months. She won the "Best Newcomer Award" from Hong Kong's TVB.