Name: Nicole Scherzinger
Birth Place: Honolulu, Hawaii, USA
Profession: Singer from the Pussycat Dolls, Actress
Date of Birth: June 29, 1978
Height: 166cm
Heritage: American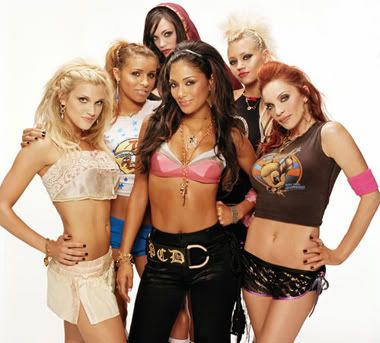 Nicole Elikolani Prescovia Scherzinger (born June 29, 1978) is an American actress and singer/dancer best known for her work as the lead vocalist for The Pussycat Dolls under the stage name Nicole Kea.
Scherzinger was born in Honolulu, Hawaii to a Filipino father and a Hawaiian/Russian mother and was raised in Louisville, Kentucky with her stepfather, mother Rosemary and sister Ke'ala. There she began her life as a performer, performing in many plays at The Actors Theatre of Louisville. Scherzinger furthered her studies majoring in theater arts at Wright State University before entering a reality television competition. The competition was the premiere season of The WB's television show, Popstars where she earned a role of lead vocalist in the female pop group Eden's Crush. The band had a single called "Get Over Yourself," which peaked at #1 in sales and hit the top five on Billboard Hot 100. "Love This Way," was the second single chosen from the "Pop Stars" album, however, their record company folded and the group disbanded. Following a brief stint as the lead singer with Eden's Crush, Scherzinger joined The Pussycat Dolls. The Pussycat Dolls now have world-wide status as a popular singing group, with Billboard singles being top five hits, such as Don't Cha and Stickwitu. The album PCD went platinum in 2006. She has also done background vocals for Days of the New, Will Smith, and Shaggy.
She made her feature film debut in the 2003 film Chasing Papi, where, despite her Filipino and Russian ancestry, she played the role of "Miss Puerto Rico". She has also appeared on the television shows My Wife and Kids and Half & Half. She also had an extra position in Love Don't Cost a Thing.
She was also engaged to Nick Hexum, the lead singer of the popular alternative rock band 311. Their hit single Amber was written for Scherzinger.
In 2006 she is touring with The Pussycat Dolls and has plans to record a solo CD. Some reports claim she will leave the group, while others say she will alternate her solo career with the group.